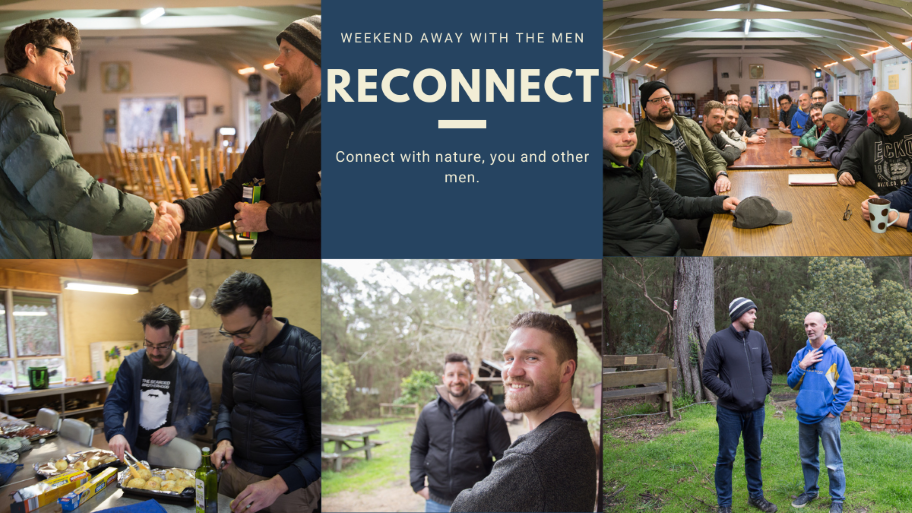 No More Mister Nice Guy Group Reconnect Weekend Away @ Camp Eureka
Dates: Friday 27th May 2022
Arrival: Between 4 pm-10 pm Friday
Finish: 3 pm Sunday 29th May 2022
Price $90 to $93
Bank Transfer $90 to secure your spot. Optional activities can be paid for later
Garth Lategan
National Australia Bank
BSB 083004
A/C 988125777
Or pay by card for $93
Optional: Meal and beverage at the local pub for a late lunch on Sunday 8th May 2021
Location: 100 Tarrango Rd, Yarra Junction VIC 3797
Accommodation Website: http://campeureka.org.au/
Requirements: Open to members of the NMMNG Melbourne Chapter and their male friends.
Following the success of the 2019 edition, we're doing it again!
The purpose of this event is to:
• Deepen our male relationships
• Form closer bonds with men
• Less talking and more doing
• Getting out of the house
• Reconnect with people, not social media
• Free from drugs or alcohol
• Experience nature
At its heart, this NMMNG weekend is the opportunity to join in activities focused on promoting men's well-being.
These workshops will help men to be empowered in their masculinity through vulnerability, support, and a greater understanding of trust.
The event will build friendships that are grounded in the idea "it's ok to be you."
This is part of being held accountable for building a life that gets one's needs met so we men can better contribute to our community.
COST $90-$93 – INCLUDES:
Accommodation for Friday 4 pm to Sunday
3 pm – in "scout camp-style lodges and bunk beds" or you can choose to camp.
Food – set menu by camp organisers
If you have any special dietary requirements, please bring food with you.
Public Liablity Insurance
If you cannot attend due to financial difficulties but wish to join us, email Garth (garth@ten.training) and we'll come up with a payment plan or other opinions.
All men are expected to be active and contribute to the container by:
• Running an activity
• Helping in the kitchen
• Keeping the fire going
• Keeping the camp neat and tidy.
• Staying present
Activities
We will get men's feedback on what we can cover.
If you would like to contribute to an activity or have some ideas please email garth@ten.training
Optional Extra's for the Saturday activities are still TBC
Bike Ride cost approx $25 to$35 each
Archery cost approx $25 for to$35each
Sleeping
Share huts – basic bedding is provided; sheets/sleeping bag is required
Tent or swag +/- tarp, sleeping bag if you want to camp
Clothing
Pack for warmer days and cooler nights (could be 8 degrees +/- rain)
Mosquito repellent
Basics
Torch (+ spare batteries)
First aid kit (one will be present on site but you may wish to bring additional items.)
Cooking
Each man is responsible for his rubbish and special dietary requirements (if applicable)
It is our intention that food can be shared and cooked communally. Share the mystery!
The camp has plenty of refrigerators and freezer storage.
It's a full kitchen so only bring the food that you need:
If you want to be part of the cooking team please email garth@ten.training
Additional
• Something comfortable to sit on +/- ground cover/sheet +/- extra cushions, beanbags, etc.
• Camping lights for larger spaces
• Folding chairs
• Anything else you believe could contribute to creating an awesome weekend, e.g. musical instruments, telescopes for stargazing, etc.
This is a digital, drug, and alcohol-free event.
Bank Transfer $90 to secure your spot. Optional activities can be paid for later email garth@ten.training when you have made the payment
Garth Lategan
National Australia Bank
BSB 083004
A/C 988125777
Or pay by card for $93
Mens Reconnect Weekend News